It depends on where you bought (your cost basis).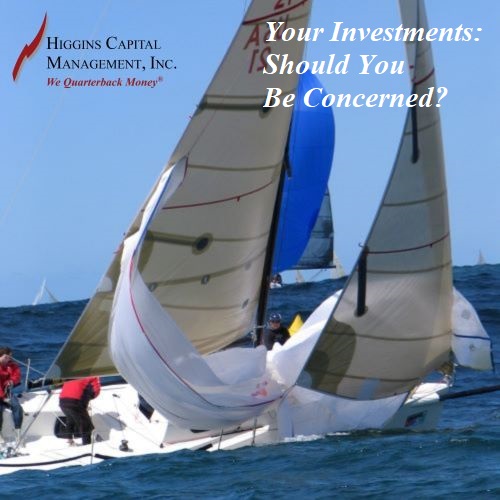 Markets continue to sell off … and we haven't seen the dip-buyers yet.
A Pull Back is when markets are down 5%; a Correction down 10%;  a Bear 20%.
A Crash is a matter of how quickly the carnage occurs.
Here is a sample of carnage that has occurred in the past few months:
Peloton [PTON]             -82%
Zillow [ZG]                     -75%
Zoom Video [ZM]          -73%
Beyond Meat [BYND]    -67%
DoorDash [DASH]         -50%
Coinbase [COIN]          -48%
Netflix [NFLX]               -45%
Uber [UBER]                -40%
Airbnb [ABNB]             -28%
As I write this, here are the major indices from their highs:
S&P 500:     -8%
NASDAQ:  -14%
Dow:           -7%
Do you have an exit strategy?
Let us hear from you. (The photo is of a flawlessly executed spinnaker take-down; not a disaster)
Our clients are investors 45-years and older who have accumulated a nest egg and want the best financial planning and investment management available.
The information contained in this Higgins Capital communication is provided for information purposes and is not a solicitation or offer to buy or sell any securities or related financial instruments in any jurisdiction. Past performance does not guarantee future results.
#fiduciaryfinancialadvisor #financialplanning #financialplanning #insurance #investmentmanagement #401k #IRA #investing #Bitcoin #inflation #stockmarket